Online business has seen incredible growth over the past few years; a majority of the surge in gaming traffic came during the Covid-19 lockdowns! An online casino's income depends on the active traffic of the players. But what if your online gaming business attracts enormous traffic and fails to convert them into paying customers? The business won't be able to sustain itself in the long run.
You can acquire players into your platform with exquisite welcome offers and bonuses. But the real deal is converting them into depositors. Since there are many options available in the market for the players, they hardly stay loyal to one platform. Moreover, freebies always tend to attract massive traffic but making them paying customers takes a lot more effort. Loyal players are the primary source of revenue for the business. So, in this article, we have brought up some of the most efficient strategies for converting non-depositors into depositors and retaining existing customers. The best part about our marketing automation software is that you can always catch your users in another campaign, even if you miss them in one flow.
3 Successful strategies for improving your deposit rates:
The conversion rate is a vital metric. This data provides valuable insights into your business's performance. The following methods are some of the first initiatives you should consider when planning your conversion campaigns.
1. Conversion campaigns "on time, every time":
The campaign begins with welcome wishes right after a player signs up for a platform. An open-arm welcome to make players feel at home is the best way to greet someone into your service. The FTD offers (First Time Deposit) should follow next. Usually, we advise our clients to automate the FTD offers after 4 hours of player registration. And all the follow-up messages are automated accordingly. The messages are intelligently constructed in a way to maximize user engagement. By connecting with them based on their preferences and favorite communication channel (Email, SMS, Push, Whatsapp), we have improved the odds of getting a favorable response to multi-folds.
Deploying welcome messages right after signup, FTD offers after 4 hours, and following up with the player for 30 days.
2. Promotions based on player behavior:
To better understand players, we must examine their behavior. Understanding a player's characteristics allows us to predict his future moves. With OptiKPI, we can easily deduce player interests and automate non-depositor flow. Strategy based on finding the player's interest (casino, live, sport + wager/amount/agent communication) will assist you in creating laser-focused marketing campaigns. Thus we can boost conversions and increase marketing ROI to the maximum.
We advise you to read more about player behavior.
3. FREE bonus and offers:
Offers and giveaways are a quick shot to boost player traffic! It helps iGaming operators to reach new territories in a short time. But the catch is that you will lose tons of money and resources if you fail to capitalize on the newfound traffic. Construct FREE bonus campaigns with a solid plan in mind. Make sure to have a flow for every type of player. Use the campaigns wisely; you don't want your players to always play games for FREE. Read more on FREE bonuses and offers.
Let us now go straight into practical cases of deploying the above strategies and automating them in OptiKPI:
When a new player registers, the flow begins. He is greeted with a welcome bonus after 4 hours of registration. The mode of communication channels can be Email, SMS, Push notifications, and Whatsapp. If the player fails to make the first-time deposit, he is carefully taken down the flow path. With each step, we look for more efficient ways to connect with the player. His activities inside your platform are monitored, and offers are automated based on his behavior.
Within a month, we can convert most new users into first-time depositors. Hence, we usually advise our clients to continue the flow for 30 days. After 30 days, if the player has still not made a deposit, we conduct a short survey on why he is not interested in your platform. We can later use that data to optimize the flow.
An example of the non-depositor flow:
Delivery time

(after signup)

% of Bonus

Offer

Communication channel

4 hours

Welcome

Welcome Bonus 

● Push 

● Email Welcome 

● SMS/WhatsApp

26 hours

Welcome

Welcome Bonus

● Push 

● Email Welcome 

● SMS/WhatsApp

5 days

110% of the sum of the deposit

Special deal 4 with CODE

● Push 

● Email Welcome 

● SMS/WhatsApp

● Free Spins

7 days

130% of the sum of the deposit (you can use it only for Casino games)

Special deal 4 with CODE

● Push 

● Email Welcome 

● SMS/WhatsApp

● Free Spins

7 days after Sign Up and following up with the players everyday… for 30 days (can be extended any time)

A gentle reminder for the limited offer

130% (CODE needed)

● Push 

● Email Welcome 

● SMS/WhatsApp

30 days 

Survey

What we missed? Why did we fail?

● Push 

● Email Welcome 

● SMS/WhatsApp
We integrate your player data into our automation software and carry out precise marketing promotions. We also deploy the welcome campaign as an add-on to the above campaign.
The non-depositor flow can continue until the player registers, but we advise our clients to end the flow in a month. We can restart the campaign anytime for you!
How do you benefit from OptiKPI?
OptiKPI is an exclusive marketing automation assistant for your gaming platform. With our expertise in the gaming industry, we have crafted our software to address your pain points directly. We can automate all your marketing actions and help you shift your focus toward business operations.
Our platform's primary characteristics are compliance, marketing, and risk management. Furthermore, we help improve your overall business performance in the long run. We take a long-term approach to increasing client lifetime value. OptiKPI is the No. 1 customer retention platform for the gaming industry.
We have increased our client's revenue by more than 30%.
Increased Retention by 10% on average.
And increased Gross Gaming Revenue by 20% on average for our customers.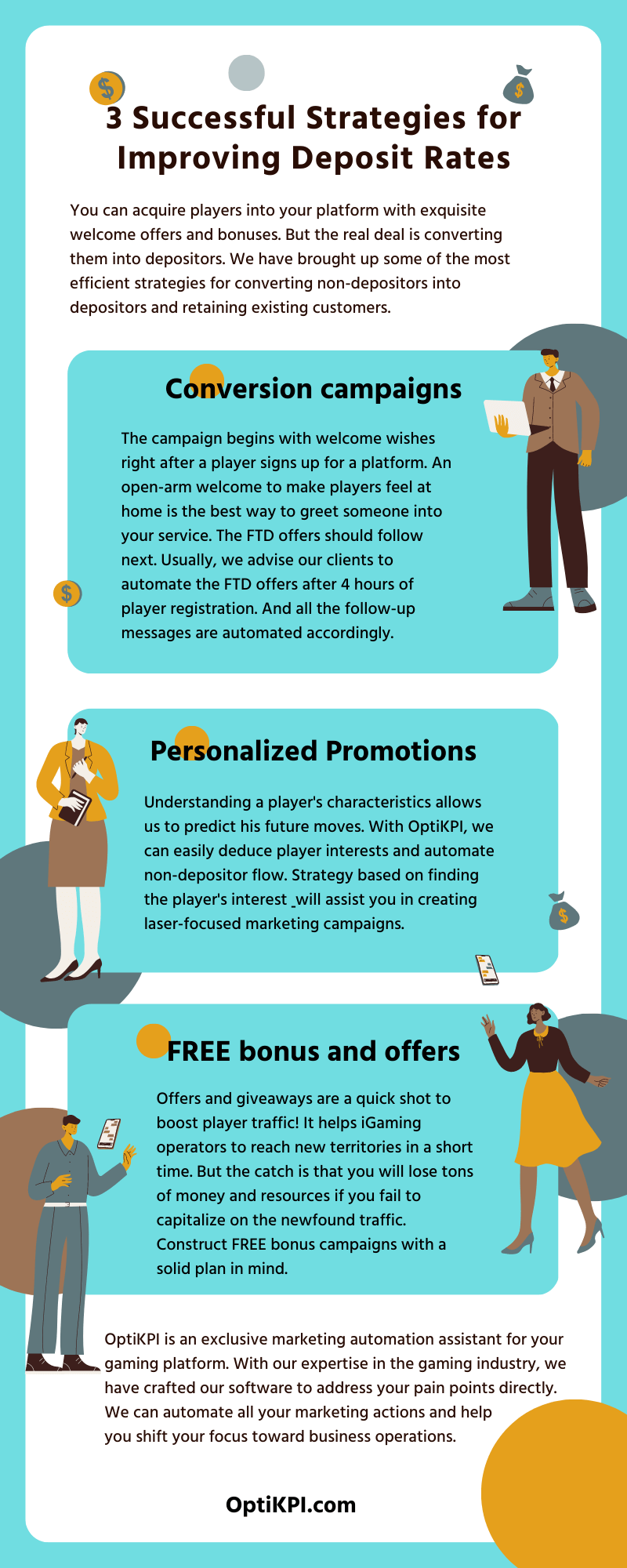 Share this Image On Your Site
READY TO DISCUSS YOUR PROJECT