Table of contents
Why is customer retention important?
Why is customer retention important? Let us now find why online gaming customer retention is important. With hundreds of online casinos to choose from, the gambler is spoiled with choice. Customer retention rate is one of the single most important metrics for a gaming company. The more your customer retention rate, the better the performance of your business. So what can online casino companies do to maintain their customers?
We now know the answer to the question, "why is customer retention important?". There are numerous benefits of customer retention when marketing strategies are laid out. But how to improve customer retention for online gaming? The following are the five highly effective customer retention strategies for the gaming industry:
Gaming Operators Growth

15%
increase in Unique Depositors

34%
Decrease in Churn

25%
Gross Gaming Revenue Uplift
Five Strategies to Improve Customer Retention
1. Exclusive online games and extensive gaming options
An online casino has a guaranteed success rate if it can secure exclusive rights to select popular games. However, it will not be easy or inexpensive. The game providers invest much in developing new games, and they want gamers to access them through as many operators as possible. Hence, having unique ideas for your games and developing them will help you control your rights over games. Having exclusive games will help you boost your customer retention rate and acquire new players with relative ease.
Moreover, having an extensive collection of games on your site will keep players engaged. Focus on adding quality games to your portfolio from major game providers. Stack your online gaming site with thousands of popular games to capitalize on incoming player traffic.
2. Profiling of players
Every player has unique game preferences, playing hours, betting capacity, and overall behavior. Understanding the user's behavioral preferences is critical to player retention. Studying a data dump of a player's journey can help you discover several patterns that indicate the player's behavior. The operator can then utilize this knowledge to provide customized solutions for their gamers to boost customer retention for gaming. 

As a result, bonuses have become essential ammunition for casino operators seeking consistent engagement from their gamers. Understanding player behavior is the first step to improving online gaming customer retention. There may be times when gamers act strangely. Studying player behavior will assist designers and instructors in influencing and steering in-game activities with ease. Read more about player behavior in our article: Player Behavior.
3. Player experience
Your ultimate objective is to create a game that captivates players but provides an outstanding user experience. Since mobile phones have become the norm, Isn't it pointless and unfair to ask users to just play games on desktops or laptops? Hence providing a great user experience across all devices is essential. Nonetheless, many operators either do not offer a mobile-friendly casino or have a bad one. Given the abundance of operators accessible in a given market, players will not hesitate to move to your rival if they do not receive a rich user experience. Customer retention technology software like OptiKPI is the best bet in improving the player experience.

Successful gaming firms spend more money on marketing than on product development. Bonuses help operators enter the market and reach clients. Player Journey is one of the most significant customer retention strategies for game operators since it allows them to utilize their connections with players more effectively. A smooth player trip enables casino operators to maintain control while providing their players with an excellent user experience. Position multiple touchpoints to investigate and capitalize on the options presented by the players. Read more on improving the player experience.
4. Around-the-clock customer support
One of the reasons why excellent businesses grow great is their loyalty to their customers. This loyalty guarantees that customers return over and over again. To demand such devotion, you must provide excellent customer service! When a player is satisfied with your service, he will naturally continue with your brand and not switch to the competition. It is a significant benefit for the organization because client retention is significantly less expensive than customer acquisition. Hence, provide 24/7 customer service to your players.
For example, when a player wins more than $1000 on your platform, OptiKPI will pick up the cue and alert ALL online players about the Big Win in real-time through a Push notification. In addition, the system will send an email to your Customer Support, ensuring that your administrator confirms this Big Win.
5. Using a customer retention platform built specifically for online casino
Using marketing automation software in the gaming sector ensures long-term success. Because competition is at an all-time high, make intelligent decisions to remain at the top of the game. Your player data will help you grow your business. With advanced analytics dashboards, you can analyze campaign outcomes like an expert. Create a 360-degree perspective of each participant to discover what works and doesn't regarding marketing investment. You can systematically boost your benefits of customer retention with the assistance of marketing automation software.
We know how to improve customer retention for gaming, but what is the best customer retention platform solution that takes care of all marketing challenges? OptiKPI is the best customer retention technology in the market for gaming.
Why is OptiKPI the best marketing solution software for your gaming platform?
OptiKPI is the best customer retention technology software developed for boosting online gaming retention. The main qualities of our platform are compliance, marketing, and risk management. In addition, it aids gaming platforms in the long term by utilizing user data. To increase client lifetime value, We employ a long-term approach. OptiKPI is the No.1 customer retention platform. As a result, our clients have encountered, revenue increases of more than 30%; team productivity increased by 60%. Our platform lets you optimize your marketing and reporting, increase team efficiency, and streamline compliance through superior customer data in real-time.
OptiKPI uses player behavior features to provide relevant messages to the right customers at the right time. Gaming firms profit from having real-time knowledge and technology at their disposal. OptiKPI is a flexible and easy-to-implement tool that gives immediate answers.
You can quickly incorporate OptiKPI as a marketing support program into your gaming business. Book your demo now.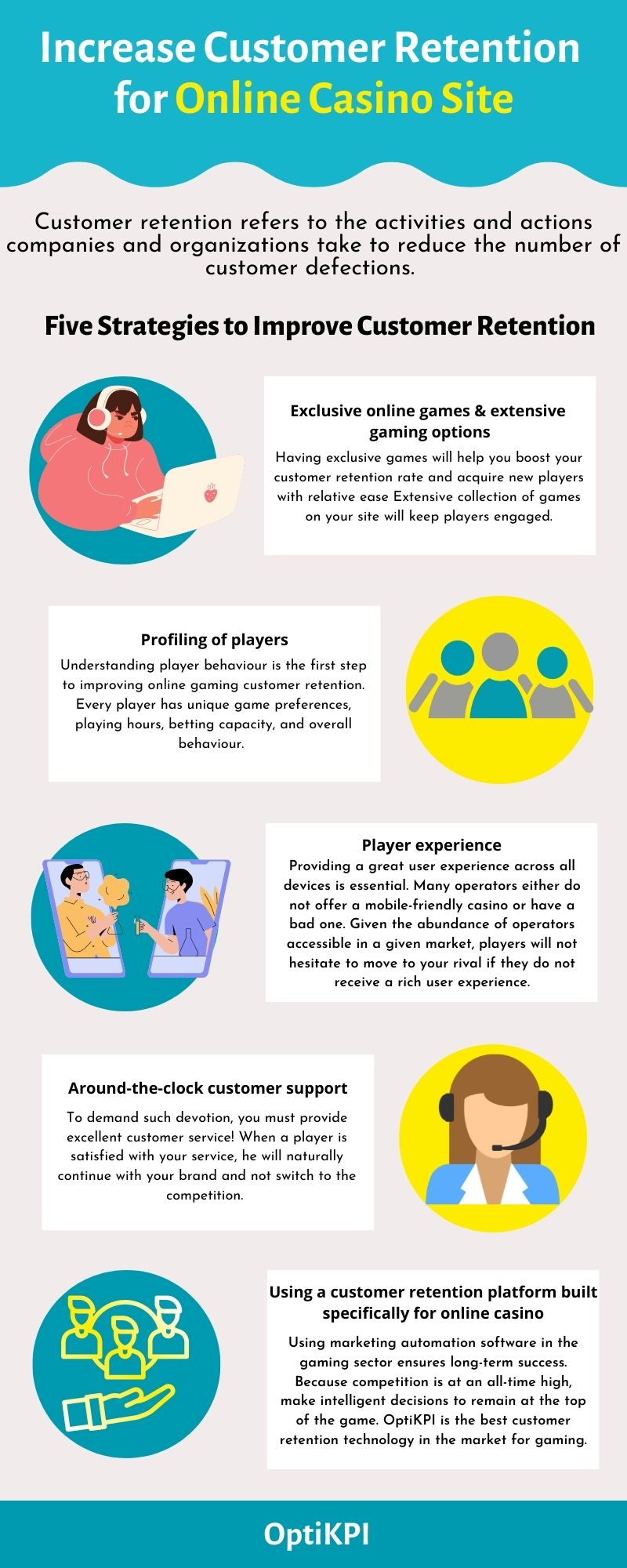 Share this Image On Your Site
READY TO DISCUSS YOUR PROJECT